How Dogs Improve our Mental Health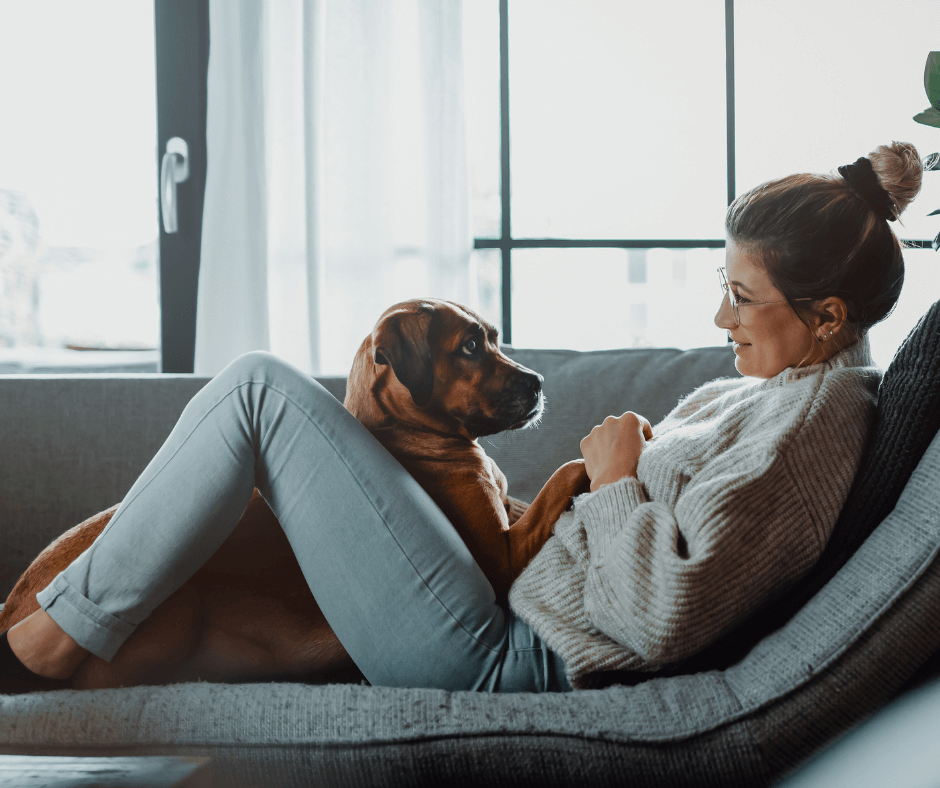 Dogs give their guardians unconditional love, companionship, service and protection. Studies show that dogs also improve our mental health. Anxiety and stress levels are higher than ever, so let's take a look at how dogs improve our mental health.
Cats and Dogs
Many Australian homes have both cats and dogs. The most dedicated cat owner will have to admit that cats don't like being told what to do. They are beautiful, admirably independent, and their aloofness is part of their charm.
But dogs are very different creatures. Domesticated and bred to serve and protect, dogs are far more prone to loyalty and obedience. Cats, on the other hand, were initially domesticated for their natural talent of catching and disposing of vermin. Of course, there are exceptions, with some clever cats obeying the commands 'sit' and 'high five', and some can even learn how to use a toilet. But for the most part, cats prefer to live on their own terms.
It follows that a deep and reciprocal relationship will more likely be formed with a dog.
Social Recognition and Bonding
Something that sets dogs apart is social recognition. This term refers to a dog's ability to recognise achievement, praise and reward. In other words, it matters to them what you think of them, and they like praise.
Studies show that a dog not only understands when good or bad is done to their guardian, but that it matters to them. Generally, this is why a well-adjusted dog will defend their guardian when under attack, and why they are less likely to attack a stranger whom their guardian appears to trust.
It goes both ways, too. Studies also show that the bond between a guardian and their dog can be as strong as that between a parent and their baby.
This special, two-way connection is directly related to mental health. An absence of social bonds leads to isolation, loneliness and depression.
The Proof
Dogs have a positive effect on adolescent mental health, according to one Japanese study. The life-long significance of this is that poor mental health in adolescence can have an impact later on in life, and teen mental health issues are on the rise.
In older adults, research shows that dogs improve mental health by providing their owners with a feeling of social inclusion, safety and meaningful home life and routines.
Another study on social isolation in single older people shows the link between dog companionship and social inclusion resulting in lower levels of loneliness and an improvement to mental health.
Walkies
For the most part, dogs love to go for walks, and most breeds need the energy outlet. Walking is an excellent, underrated form of exercise for both dog and guardian. Exercise equals endorphins, and coupled with the fresh air breathed into the lungs, results in reduced symptoms of depression and anxiety. Added to this is a number of advantages to our physical health, such as lower blood pressure, an improvement in heart health, and joint and bone support.
According to the Black Dog Institute, the benefits of exercise for mental health are numerous. Bonuses include increased creativity, productivity and memory, greater self-confidence, socialising and better sleep. Walking your dog encourages more time outside, naturally increasing vitamin D levels, which is vital for good mental health.
Dog walking also offers you a break from your worries, a distraction from negative thought patterns, and time away from screens – the overuse of which is directly related to mental health. For a complete health treat, pipe feel-good music and podcasts through headphones.
Assistance Dogs
Assistance dogs, known as service dogs in other parts of the world, undergo at least two years of specialist training. These special dogs are considered medical aids in Australia. Assistance Dogs Australia provides dogs for people living with a disability, and trains psychiatric service dogs for sufferers of PTSD. They enable vulnerable people to feel part of society, in turn greatly helping their mental health.
Facility dogs give great emotional support for children with cancer and other terminal illnesses in hospital. In times of great stress and upset, these dogs bring children a sense of normal life and joy.
The Monash Children's Hospital in Victoria allows sick children to have time with their own dogs. Following the research that keeping connected to family, friends and pets leads to better health outcomes, the hospital's purpose built pet park allows these children to have time with their own pets.
This is true for all ages, from hospitals to nursing homes. Facility dogs benefit patients, their families and staff. Volunteers at Delta Therapy Dogs bring joy to the lives of people in need, helping 20,000 Australians each week.Dogs are undoubtedly man's best friend, and we have proof that they really do help us in so many ways. As well as companionship, loyalty, service and protection, they can also help with our mental health. How precious are these marvellous creatures? Read What a Dog Wants for ideas on how to show your best friend some love today.